Car Launches
Mitsubishi Triton Strada Launch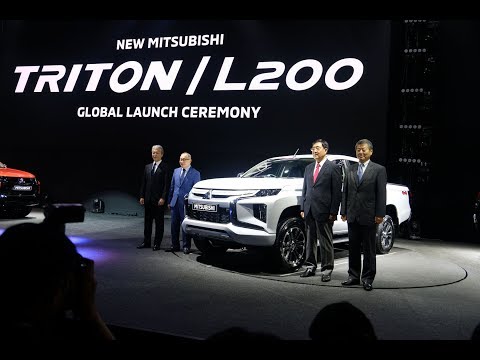 The Mitsubishi Triton/L200 has always been one of the company's most loved models, that's why it's no wonder that it's been in the scene for four decades now. As it enters its 40th year, Mitsubishi Motors Corporation celebrated the milestone by launching the newest Triton/L200. We've covered the highlights of the grand event held at Bangkok, Thailand. Watch this.
Mitsubishi Motors Corporation has officially launched the new Triton/L200 globally. Following the global launch in Thailand early November, the new Triton, also known as the Strada in the Philippines, will soon enter the country's local car scene.
To further bring the new Stradacloser to the Filipino market, Mitsubishi Motors Philippines brought members of the motoring media all the way to Bangkok, Thailand for a test drive experience and activities.
Through the test drive activities, Mitsubishi aims to showcase the power and capabilities of the new Strada.
During the grand unveiling, Mitsubishi Motors Corporation also announced that the 1-ton pickup truck is produced at the LaemChabang Plant operated by Mitsubishi Motors Thailand.
The launching of the new Strada coincided with the model's 40th birthday, which makes it more special.
The company celebrated the milestone with the new Strada's revitalized design, an enhanced 4WD system, and advanced technological features.
The design of the new Strada follows Mitsubishi's design concept of "Rock Solid" which embodies the full essence of its "Engineered Beyond Tough" development keyphrase. The front face is highlighted by a high engine hood line and beefier-looking lamps. Meanwhile, the side and rear views have a newly sculpted body curves with contrasting sharp lines, extended wheel flares and bright accents.
Talking about the enhanced 4WD system of the new Strada, all 4WD models come with either Super-Select 4WD, which delivers optimum traction and handling characteristics for any given surface, or Easy-Select 4WD, which simplifies switching between drive modes for different road surfaces.
The new Strada is also equipped with advanced technological features such as Advanced Safety Features like Forward Collision Mitigation, Blind Spot Warning with Lane Assist, Rear Cross Traffic Alert and Ultrasonic Misacceleration Mitigation System, among others.
According to Mitsubishi Motors Corporation, the new Strada is one of the most important global strategic models. Furthermore, the success of the new Strada will accelerate the momentum of the company's sustainable growth.
40 years and counting-it doesn't look like Mitsubishi Motors Corporation is going to stop developing and enhancing the Triton/L200 any moment soon. The newest model, also known as the Strada in the Philippines, will be coming to the country early 2019. Car enthusiasts, especially Mitsubishi's fans and supporters, be on the lookout for this new model. That's it for our Special Feature this week. We hope you enjoyed.