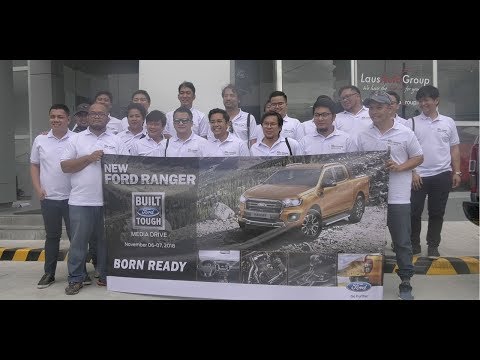 The arrival of the latest Ford Ranger in the Philippines obviously calls for a celebration. With it, Ford Philippines brought members of the motoring media to the island of Potipot, Zambales for a firsthand experience of the newest Ranger. We've covered the highlights of the event here on Special Feature. Watch this.
Aboard the newest Ranger, the group headed to Clark, Pampanga as the starting point of the adventure. After the flag off, the Ranger experience continued on to Botolan, Zambales, where each team changed their designated drivers. The team eventually got to Potipot, Zambales where they got to experience the beauty of the island through a sunset cruise.
Throughout the drive, the group got to experience the new powertrain of the Ranger. It offers a choice of three diesel powertrains to deliver greater versatility and meet consumer demands for a wider variety of requirements. These include the new generation 2.0L Bi-Turbo and 2.0L Turbo engines, and the Ranger's proven 2.2L TDCi.
Available exclusively on the Wildtrak 4x4 variant, the new-generation 2.0L Bi-Turbo diesel is paired with an advanced 10-speed automatic transmission to bring greater torque, improved flexibility and a quieter, more comfortable drive. The 2.0L Bi-Turbo takes advantage of sequential turbocharging to deliver greater responsiveness, drivability and maximum efficiency.
The 2.0L Turbo diesel engine, available on the Wildtrak 4x2, is also mated to Ford's advanced 10-speed automatic transmission to deliver 180PS and an impressive 420Nm of torque.
Apart from the new powertrain of the Ranger, it also takes pride in its new safety features of the Ranger. The new features include the Autonomous Emergency Braking feature which helps mitigate risks by detecting pedestrians and vehicles, alerting drivers with an audible and visual warning. With the AEB, the new Ranger pre-charges brakes to increase brake-assist sensitivity providing full responsiveness when the driver brakes.
These new powertrain and advanced technology set the latest Ranger apart from its predecessors, according to Ford.
The newest Ford Ranger is available in Ford's dealerships nationwide.
That was how Ford Philippines further introduced the newest Ford Ranger to the Philippine market. We hope you enjoyed our Special Feature this week.