Autos Of The World
2018 Aston Martin Vantage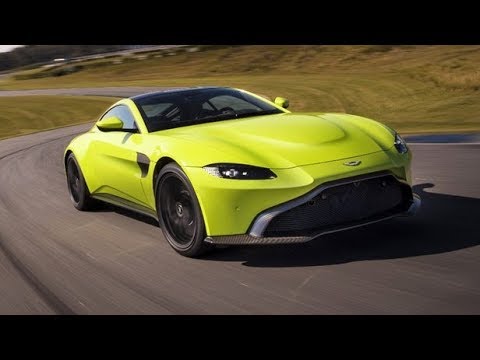 Vantage. An evocative name for a magnificent bloodline of thoroughbred sports cars. For seven decades the heartbeat of Aston Martin's purest models, successive generations have built an enviable reputation for thrilling performance and enduring popularity. Today this formidable sporting dynasty is poised to hit new heights with the introduction of the new Vantage.

A spectacular new Aston Martin sports car demands a bold and distinctive design language. Pure, sculptural forms create an athletic, predatory stance, while the minimal front and rear overhangs, muscular flanks and broad haunches express the agility and dynamism inherent within the car. New head and tail lights form dramatic new signatures giving the Vantage unmistakable road presence and contribute to a strong and individual identity within the growing Aston Martin model range.
Aerodynamic performance is central to the Vantage concept: the front splitter directs airflow underneath the car, where a system of fences channels cooling air where it is needed, and also ensures the rear diffuser is fed with clean airflow. The design of the diffuser creates an area of low pressure air, while simultaneously preventing turbulence generated by the rear wheels from disrupting the flow of air exiting centrally from beneath the rear of the car.


The heart of the Vantage is Aston Martin's potent new alloy, 4-litre twin-turbo V8 engine. Set low and as far back in the chassis as possible for optimal centre-of-gravity and perfect 50:50 weight distribution, this high performance, high efficiency engine returns a CO2 figure of *245g/km yet develops 503bhp at 6000rpm and 505lb.ft from 2000-5000rpm. With a dry weight of 3373lb this gives the Vantage formidable power-to-weight and torque-to-weight ratios - something vividly demonstrated whenever the throttle is squeezed. Detailed tuning of the induction, exhaust and engine management systems has given the Vantage a truly intoxicating character and soundtrack.

The Vantage deploys its impressive power and torque to the rear wheels via a rear-mounted ZF eight-speed automatic transmission. (posted on conceptcarz.com)Capable of accelerating from 0 to 60mph in 3.6 seconds and on to a maximum speed of 195mph, it employs a sophisticated suite of integrated electronic systems to offer maximum control and driver enjoyment.