Head to Head
Suzuki Swift vs Toyota Wigo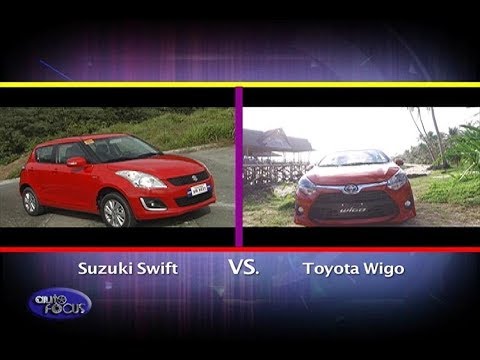 Nowadays young professionals or yuppies are excited to buy their first car. The initial vehicle model that they consider to own is a cute car that is fun to drive, fuel efficient and affordable. Let's take a look which of these two mini cars will suit your taste.
The Suzuki Swift is fitted with a 1.2-liter 4-cylinder engine that is mated to a 4-speed automatic. The combination gives the Swift a performance that matches its strong looks. Additionally, the Swift is fuel efficient with its 1.2-liter Dualjet engine that is rated at 90 PS of power along with 120 Nm of torque. Meanwhile, the Toyota Wigo is powered with a VVT-I engine for a more fuel-efficient drive that is also matched with 4-speed automatic transmission. It runs on a gasoline engine that now delivers 66 hp and 89 Nm of torque.
Focusing on the exterior look, the floating roof, short overhangs, and large lamp clusters of the Swift make for a clean sense of style that is a stranger to unnecessary angles, lines, and gashes. On the other hand, outside, the revitalized design of the Wigo showcases a sporty and fun silhouette that speaks volumes compared to its previous model, thanks to its front grille and 14-inches alloy wheels.
Next: the interiors. Inside, the Swift continues with this clean approach with all its business-like design. It reflects on the texturing on the dashboard that is consistent and the controls are dependable. With its dimensions which are smaller than other subcompact hatchbacks out there, interior space is at a premium. It is also equipped with a multi-informational display, new touchscreen infotainment and a new climate control system.
Meanwhile, for the Wigo, it's obvious that it shows off its redesigned interior with new seat patterns and door trims. The driver and passenger seats are sliding and reclining, while the rear seats are bench folding. Adding to the treat is a more refreshing appearance that has been granted on its multi-function and navigation-ready audio system. The infotainment system now offers quicker responses and a sharper display along with steering wheel mounted controls.
Both the Swift and the Wigo don't compromise safety and security. The Swift has a Dual Sensor Brake Support which features a monocular camera and laser sensor plus high beam assist that automatically switches high and low beam according to the vehicle's surroundings. And one of the other features in the package is adaptive cruise control system which maintains a certain distance to the vehicle in front.
The Wigo also ensures safety and security with standard SRS airbags for both the driver and passenger. Additionally, all new variants of the Wigo are now armed with Anti-Lock Brake System. Moreover, with the Anti-theft System, which has an immobilizer and alarm, and the Wireless Door Lock, you don't have to worry about security.