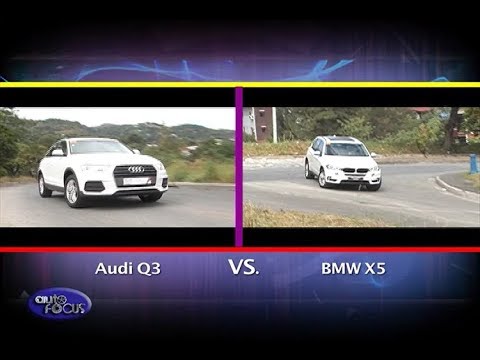 Given, midsize SUVs are expected to come off strong and powerful without of course compromising comfort and security despite its size. In this week's head-to-head, we take a closer and clearer look at two of the prime examples of the breed, which have also proven the capabilities of midsize SUVs: the Audi Q3 and the BMW X5.
Both the Audi Q3 and the BMW X5 have a combination of power and efficiency right under their hoods. The Q3 is powered by a 1.4-liter TFSI engine that delivers 150 horsepower and 250 Nm of torque. It is mated to a 6-speed S Tronic-dual clutch automatic transmission for smooth and quick shifts. Meanwhile, the X5 runs with an inline-six engine which produces 258 horsepower and 560 Nm of torque. Adding to the treat is the fact that it has an 8-speed automatic transmission.
Now let's take a closer look at the exterior of the two midsize SUVs.
The Q3 is premium from tip to stern with its coupe-like lines and the use of horizontal motifs that help emphasize its width. One can point out that it is an expressive design with the brand's trademark single-frame grille and new headlights with Xenon Plus technology and LED daytime running lights. At the back, the wrap-around tailgate gives more character to the Q3. Add the undivided LED taillights which produce a sporty, upscale look and you can easily say that Audi was aiming for a model that screams quality and they've accomplished it with the Q3.
On the other hand, of course, the X5 carries the signature BMW design that gives it undeniable presence and distinctiveness. It features a muscular interpretation of the BMW kidney grille set within the triangle of the twin circular headlights with standard xenon lighting and front LED fog lamps. The X5's X-shaped bumper contour also marks it as an integral member of the BMW X family. Moreover, the V-spoke style 19-inch wheels give it a meaty stance.
Inside, Q3 has plenty of room, with high-quality workmanship and a clean, ergonomic design that reinforce its premium status. It offers an all-black leather interior, and comes equipped with Audi's MMI infotainment system that allows you to manage an array of systems including navigation, and entertainment. Use the MMI controls, touch pad or voice control and you're set.
Meanwhile, elegant and cavernous-that's what the interior of the X5 looks like. There is also an impressive amount of space here, with its surfaces that generate vibrant contrasts adding to the feels. The X5 is equipped with the new iDrive system that features a 10.2-inch control display and a 20-GB hard drive memory to store media files.
For safety and security features, both the midsize SUVs are equipped with features that ensure nothing less. The A3 comes with a host of airbags, Antilock Braking System with Electronic Brake Force Distribution and Brake Assist, Immobilizer and ISOFIX. Meanwhile, the X5 is equipped with smart cruise control system and other driver assists such as reverse cameras and sensors at the front and rear.