Head to Head
Mazda2 vs Peugeot 208 GTi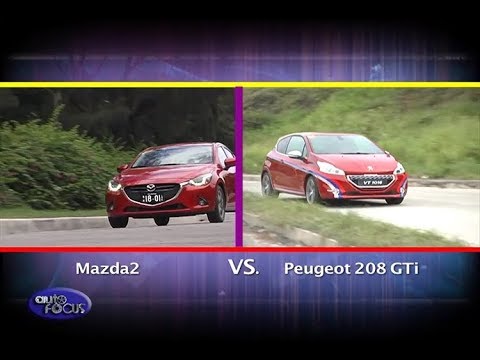 Hatchbacks have a strong appeal to some car enthusiasts, maybe because of its masculine design and fun-to-drive experience. In this week's head-to-head, we will get to see and compare two best-selling hatchbacks, the Peugeot 208 GTi and the Mazda 2.
Starting off with what's under the hood: the engine.
The Mazda 2 is powered with the 1.5-liter Skyactiv-G engine that produces 108 horsepower and 139 Nm of torque, while the 208 GTi runs on a 1.6-liter engine with 200 horsepower and 275 Nm of torque. The two hatchbacks are similar in which they both run on a 6-speed, except the Mazda 2 uses automatic while the 208 GTi uses manual.
For the exterior design, the Mazda 2 gives a taut and muscular feel with its well-defined lines and nice proportions. Additionally, with its long hood and highly stylized front-end, it is easily defined as eye-catching.
On the other hand, as you take a look at the 208 GTi, you'll notice the extended wheel arches, side skirts, prominent rear spoiler, the detailed front grille, and the raft of GTi badges, giving the car a premium sporty feel.
When it comes to the interior look, as you climb inside the Mazda 2, you will be greeted by the leather and nicely metalized trim, which makes operating the car feels better. The inside is packed with additional treats such as the heads-up display, steering wheel controls, automatic climate control, and of course, the MZD Connect infotainment system.
Meanwhile, settling inside the 208 GTi, you can rely on the red-and-black sport seats with holding you firmly in place. The all black cabin has the right amount of chrome to keep things interesting. There's also a DAB radio dual-zone climate control, plus automatic headlights and wipers.
For safety and security, both the two hatchbacks have standard features. The only difference is that the 208 GTi has two ISOFIX child-seat mounts in the rear seats. But all in all, both cars ensure nothing less.