Head to Head
Nissan Navara VS Chevrolet Colorado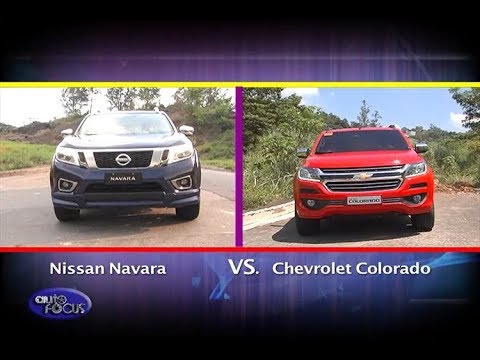 In the pickup truck segment, it seems that the ultimate requirement for the models involves possessing strong and reliable features to be able to take on heavy loads, without of course compromising comfort, safety and security.
In this week's head-to-head, we take a closer look at two of the most fitting examples of a pickup: the Nissan Navara Sport Edition and the Chevrolet Colorado LTZ. Let's spot their differences as well as their similarities.
Both the Navara Sport Edition and the Colorado LTZ are powered with four-cylinder turbo diesel engine except the former runs on a 2.5-liter that produces 190 horsepower and 450 Nm of torque, while the latter runs on a 2.8-liter that produces 200 horsepower and 500 Nm of torque. On the other hand, although the Navara Sport Edition and thr Colorado LTZ are similar in that both pickups are channeled through automatic transmission, Navara uses 7-speed while Colorado uses 6-speed.
For the suspension setup, the Navara Sport Edition uses a multi-link rear suspension, making it much more stable to drive and definitely more comfortable on any road condition. This is the same with the Colorado LTZ's suspension which has been improved, technology and hardware upgrades-wise.
Next: a tour around the interiors of the two.
Inside the Navara Sport Edition, you will be greeted with a more premium feel, thanks to the leather finish on the steering wheel, shift knob, arm rest, and door trims. Additionally, the Navara Sport Edition has a 5.0-inch Display Audio that comes with Audio Streaming Functions which has 6 speakers, iPod and Bluetooth connectivity, Aux-in, USB port.
Meanwhile, as you climb inside the Colorado LTZ, the prominent elements that focus on spaciousness, refinement and technology are easily noticed. Soft-touch but durable materials, fabrics and finishes are used throughout the truck, ensuring that it is as comfortable as it is capable. The driver and passengers can also enjoy an 8-inch color touchscreen that features the latest Chevrolet MyLink Infotainment system with multiple smartphone OS compatibility, multimedia functionality, Bluetooth connectivity, SIRI Eyes Free and voice recognition software.
Going back outside, the Navara Sport Edition and the Colorado LTZ's exteriors showcase a more aggressive, tough yet sophisticated look.
For the Navara Sport Edition, it features a new honeycomb grille, front skirt, and fog lamps wrapped in a dark chrome finish. Nissan didn't miss any detail as this sporty design continues all the way onto the side steps and rear bumpers which are also finished in dark chrome. And stamping its street credibility are 18-inch alloy wheels at each corner.
On the other hand, the Colorado LTZ has a press hardened steel body and more angular lines and strong proportions. The tough stance appearance owes it to the front fascia along with a muscular hood. Combine this with slim LED daytime running lamps, two-toned aluminum wheels and chrome exterior door handles, and no one can deny that the Colorado LTZ has a strong road presence that makes it stand out from the crowd.
The Navara Sport Edition and the Colorado LTZ may have a number of differences but on top of it all, both the pickup trucks ensure safety and security with features such as Anti-lock Braking System, Electronic Brake Force Distribution, and dual airbags.

The Nissan Navara Sport Edition and the Chevrolet Colorado LTZ may differ in many aspects but if there's one thing that can't be denied, it's the fact that both models rise up to expectations in their own way.