Special Features
Toyota Vios Cup 2017 3rd Leg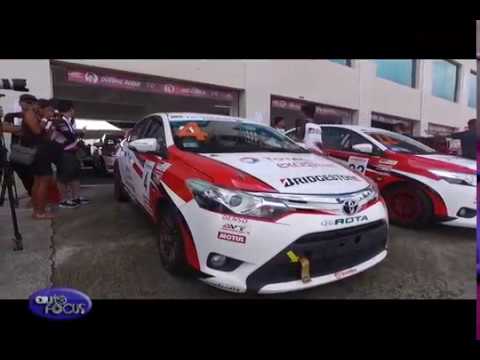 Toyota Motor Philippines continues to support and promote the motorsports industry in the Philippines with another successful leg of the much-awaited 4thVios Cup.
Toyota Motor Philippines once again brought the thrill and excitement to motorsports and car-racing enthusiasts in Pampanga as it concluded the 3 rd leg of the 4th Toyota Vios Cup which was held at the Clark International Speedway.
According to Toyota, the Vios Cup is the company's way of continuing the promotion and development of motorsports in the country.
Toyota adds that the Vios Cup is also a big factor in the promotion of the Vios model.
This time, a total of 54 racers composed of 36 individual teams and 8 celebrity racers battled it out in the racetrack. But a day before the official race, the racers headed to SM Clark for a meet and greet with their fans and supporters.
For round 1, Fabio Ide from Toyota Motor Philippines placed 1st for the Celebrity Class, which gave Dominic Roque a serious challenge considering that he bagged the 1st place in the previous leg.
Meanwhile, Sean Velasco from Toyota Cebu got the 1stplace in the Sporting Class, which according to him was a very challenging win.
Representing GM Motorsports, Willem Waltheershared his experience as well as his strategies on how he won 1st place in the Promotional Class.
On the other hand, Dominic Ochoa from Toyota Quezon Avenue made an obvious comeback by bagging the 1st place in the Super Sporting Class.
Another highlight of the 3rd leg of the 4thVios Cup was the return of "The Drift King", Mr. Keiichi Tsuchiya, to showcase his latest drift stunts.
Round 2 first placers are Dominic Roque for the Celebrity Class, Sean Velasco for the Sporting Class, Roy Bunag for the Promotional Class, and Jette Calderon for the Super Sporting Class.
Racers will be back in November to compete for the 4th and last leg of the 4thVios Cup.
down, 1 more to go, and we're sure that motorsports fans and car-racing enthusiasts are looking forward to it especially after an intense race.