Head to Head
Ford Everest vs Toyota Fortuner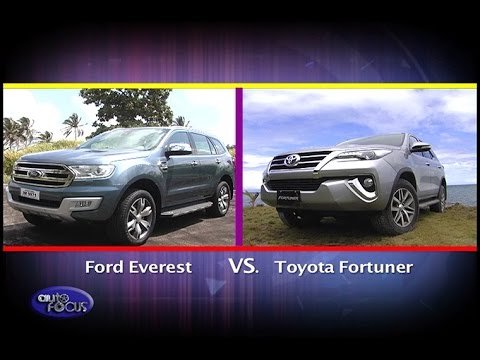 What started out as a pickup with a campershell conversion has become one of the hotly contested segments in the automotive landscape today. We are, of course, talking about the pickup platform vehicle or the PPV. Also known as mid-sized SUVs, these vehicles have taken the market by storm and with their ruggedness and versatility, it's easy to see why.
Two popular options are the Ford Everest and the Toyota Fortuner. The Everest kicked off the second wave of mid-size SUVs by offering high levels of kit and equipment in what used to be a workhorse. Toyota countered that with the second-generation Fortuner and has rocketed up the sales chart. Now its time to put these two heavyweights head to head.
It's the clash of the titans in this week's head to head as we pitch two heavyweights in the pickup platform vehicle segment. Waving the blue oval flag is the Ford Everest and over at the dependable "T" brand is the Toyota Fortuner. Let's see how the two stack up.
We start by looking at the heart of each SUV. In the Ford Everest, it is available in two engine options. It starts with the 2.2-liter, four-cylinder Duratorq TDCi turbodiesel that puts out 160 PS and 385 Nm of torque. Should you need more grunt, there's also a five-cylinder 3.2-liter Duratorq TDCi turbodiesel with 200 PS and 470 Nm of torque.
Moving to the Toyota Fortuner, there are three engine selections available. The Fortuner is the only SUV in its class to offer a gas engine courtesy of the four-cylinder 2.7-liter Dual VVT-i mill with an output of 163 PS and 245 Nm of torque. Meanwhile, the turbodiesel range starts with the 2.4-liter D-4D with 150 PS and 400 Nm of torque. Top-spec models get the 2.8-liter D-4D that puts out 177 PS and a torque figure of 450 Nm.
Both the Everest and the Fortuner can be paired with either a six-speed manual or a six-peed automatic transmission. However, the two differ when it comes to their respective four-wheel drive hardware. The Toyota sticks to the traditional 2Hi-4Hi-4Lo arrangement while the Everest comes with Terrain Management System. It allows the user to select various models in the four wheel drive system depending on the obstacles and conditions.
Both SUVs follow the traditional body on frame construction as both are based on existing pickups, namely the Ford Ranger and Toyota Hilux. Also common in this class is their suspension setups. The Fortuner and Everest ride on a double wishbone front suspension and a multi-link rigid axle setup with coil springs for the rear.
We've taken a look at the oily bits. Let's now move on to their interiors. The Toyota Fortuner comes standard with a multifunction steering wheel. It also gets an economy meter as well as manual climate control. Move up the range and it adds automatic climate control and power seats for the driver. Entry-level models get fabric seats while the top of the line variants get seats trimmed in leather.
The Toyota Fortuner also gets a cool box that serves as the SUV's mini refrigirator. All variants get a 6.5 inch touchscreen with Navigation with bluetooth, auxiliary and DVD with MP3 capability as standard.
Step inside the Everest and you are greeted by a premium yet utilitarian interior. All models get a multifunction steering wheel, as well as a multi-information display to relay information to the driver. Entry-level models get manual climate control while the mid to top-spec models get automatic climate control as standard, along with power seats. Opt for the Premium package and you also get a dual-pane moonroof and a power liftgate.
As for infotainment, low end models are equipped with a 4.0 inch color screen while the rest of the range gets an 8.0-inch touchscreen that boasts Sync 3. Sync 3 not only handles entertainment functions such as bluetooth, auxiliary and CD, it also stores and saves information from your mobile device, a voice command feature, a compass and climate control options.
Looking at their third row seats, both have different ways of set-up and stowage. The Everest uses a strap to set up the third row and, to stow, pull the strap again and push the backrest into the floor. Premium-spec models meanwhile get power-operated units and with a press of a button, the seats are either stowed or set in place. Meanwhile, Toyota adapted a spring loaded mechanism for the third row seats that flip up instead of tumble forward and it applies to all models.
From their interiors, we move on to their exteriors, starting with the Ford Everest. It primarily gets its looks from the Ranger, particularly at the front fascia. It is fitted with a three-bar hexagonal grill that is paired with headlights that comes with either halogen or HIDs with LED daytime running lights. From the windshield and back, the Everest is its own car with a different pair of doors and a more upswept window line. The rear on the other hand gets a elongated hexagonal headlights and single chrome bar.
The Toyota Fortuner takes cues from its larger sibling, the Land Cruiser. Up front is a bold grille with a large Toyota emblem taking the center. The slim headlights also takes a page from some of Toyota's cars from here and abroad. On to its side, it features an window-line that kicks upwards towards the rear. As far as the rear goes, it gets slim tail lights to match its headlights. Overall, the styling of the Fortuner is differentiated from the Hilux.
Moving on to safety equipment, base model Fortuners come equipped with ABS with EBD and dual airbags while moving up the range gets you seven airbags, namely river and driver's knee, side and curtain airbags. It also benefits from trailer sway control, brake override and reverse sensors. Ford on the other hand ups the ante in safety features. Aside from the usual ABS and a host of airbags, mid-spec to top of the line models get stability control and traction control, Roll Stability Control, trailer sway control, hill descent control, front and rear park assist and rear-view cameras. In the Premium models, it adds Lane Keep Assist, Blind-spot monitoring, forward collision warning and active park assist.
Last but not the least are the variants and prices. The Toyota Fortuner has five variants: 2.4 G M/T 4x2, 2.4 G A/T 4x2, 2.7 G A/T 4x2, 2.4 V A/T 4x2 and 2.8 V A/T 4x4 and prices range from PhP 1,386,000 to PhP 2,183,000. As for the Ford Everest, it has seven variants, namely the Ambiente 4x2 M/T, Ambiente 4x2 A/T, Trend 4x2 A/T, Titanium 4x2 A/T, Titanium Premium Pack 4x2 A/T, Titanium 4x4 A/T and Titanium Premium Pack A/T. Prices for the Everest range from PhP 1,375,000 to PhP 2,109,000.