Head to Head
Hyundai Tucson vs Mazda CX-5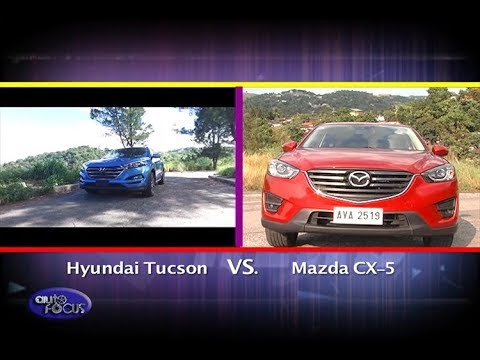 For this week's head to head, we pit two small SUVs which have a lot in common. From Japan, we have the Mazda CX-5, a relative newcomer in the segment. This is not Mazda's first rodeo at the compact SUV market with the Mazda Tribute being sold in the market from 2002 to 2009. Over at Korea, the Hyundai Tucson. Now in its third generation, this popular Hyundai has been a best-seller for the brand since its introduction 12 years ago. How do these SUVs stack up, let's take a closer look.
This week's head to head puts the spotlight on two popular compact crossovers, the Hyundai Tucson and the Mazda CX-5. Let's start this comparo by first taking a look under their hoods.
The two have similarities when it comes to engine options, both being available in gas and diesel variants. In the Hyundai Tucson, its gas engine is a 2.0 liter Theta II engine that produces 155 PS and 192 Nm of torque. Its diesel engine meanwhile is a 2.0 liter CRDI unit with 185 PS and 402 Nm of torque.
The Mazda meanwhile has three engine options to choose from with two gas units and one turbodiesel. It starts with the 2.0 liter SkyActiv-G engine with an output of 155 PS and 200 Nm of torque. Higher up the range is a 2.5 liter SkyActiv-G engine that puts out 188 PS and 250 Nm of torque. Topping the CX-5 range is a 2.2 liter SkyActiv-D turbodiesel with 185 PS and 420 Nm of torque.
Both are available with either front wheel or all-wheel drive with the latter being available in their respective top of the line models. The Hyundai holds the distinction of being one of the few compact crossovers in the market that can be equipped with a six-speed manual. The automatic transmissions for both the CX-5 and Tucson are six-speed units. Both have similar suspension setups with MacPherson struts at the front and multi-link at the rear.
Inside, the Tucson follows the marque's 'T-Design' dashboard layout. It is upright and formal with the center stack being aimed towards the driver for easier reach. Top of the line models get leather seats with 8-way power adjust for the driver and 4-way for the passenger. On top of that, it also gets automatic climate control. As for the rear seats, it gets a 60:40 split and rear passengers are treated to their own set of air-con vents. Information is provided by a TFT multi-info display with various menus plus steering wheel mounted controls for convenience.
The Mazda meanwhile caters to those looking for a sporty flair in their crossovers. Hooded dials further accent this feeling, as well as the driver-centric center console. The sporty feel is further enhanced with red ambient lighting. For the Mazda, it gets power seats for both driver and front passenger, leather trim, multi-information display, multi-function steering wheel, automatic climate control and 60/40 split fold seats.
As for entertainment, the Tucson uses a it a 4.3" LCD. Functions include CD, MP3, Aux Input, Bluetooth and USB and audio is coursed though six speakers. Smartphone users will also be able to integrate their devices to the infotainment system and the option to store and save contacts.
Moving to the Mazda, it is equipped with a 7-inch monitor that can be controlled via the scroll wheel or by touch. The monitor also houses vehicle information such as fuel economy, average speed, diagnostics and the service manual. Functions for Mazda's infortainment system includes Bluetooth, MP3, Auxiliary, and two USB ports. Sound is channeled through 6 speakers in the entry-level variant while the top of the line models gets a hi-fi Bose sound system with 9 speakers.
It's now time to take a look at each SUV's exterior designs, starting with the Mazda. The CX-5 feature's the marque's Kodo design study with more aggressive lines and sharp angles. The signature hexagonal grill makes its presence known with a large Mazda logo in the center. Unique headlights and defined creases give Mazda's compact crossover contender a sporty look. More creases and lines can be seen on the side while the rear continues the sharp angled theme with its sporty looking tail lights.
The Hyundai Tucson also features the brand's latest design philosophy. Dubbed Fluidic Sculpture 2.0, it emphasizes aerodynamics while incorporating sweeping lines from bumper to bumper. A bold grill takes center stage which is then complemented by a pair of slim headlights. This aerodynamic take on the crossover carries on to the side and rear with slim windows and a tapered rear section. With an emphasis on practicality, the tailgate of the Tucson has a low liftover height and wrapping the sides of the rear quarters are a pair of slim, distinct tail lights.
On the safety check, both have ABS with electronic brake-force distribution, Stability control and Traction control. Both also have a full range of airbags for the front driver and front passenger, as well as side airbags.
On to variants, the Mazda CX-5 has five models to choose from which range from Php 1,345,000 to 1,985,000. These are the 2.0 FWD MAXX, 2.0 FWD PRO, 2.5 AWD Sport and 2.2 AWD Sport SkyActiv-D turbodiesel. Moving to the Tucson, there are also five variants that are available which range from Php 1,088,000 to Php 1,558,000. Tucson variants are the 2.0 GL M/T Gas, 2.0 GL A/T Gas, 2.0 A/T GL CRDI and 2.0 A/T GLS CRDI. A 2.0 A/T GLS CRDI with all-wheel drive is also available on special order basis.
What we have just compared are two crossovers that offer style, substance and practicality in spades. As the Hyundai Tucson and the Mazda CX-5 have shown, crossovers don't have to be square to be practical. With wide model range selections, there will always be a CX-5 and Tucson to suit your needs.