Head to Head
Mitsubishi Montero Sport vs Ford Everest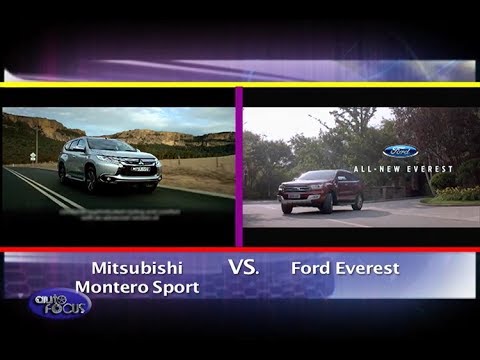 They may be based on pickups put the modern day mid-size SUV is more high-tech than ever. It's amazing to see features previously exclusive to luxury cars making their way to these rugged runabouts.
Shining examples of these are the Ford Everest and the Mitsubishi Montero Sport. Not only do they keep their off-roading credentials, these SUVs are also fitted with the latest infotainment and safety devices. So how to we differentiate one from another? It's time to do a head to head.
Facing of in this week's head to head is the Ford Everest and Mitsubishi Montero Sport. These high-tech heavy hitters have been a success for their manufacturers. So what makes these SUVs fly off the dealership lots? Let's take a closer look, starting with the engines.
At the heart of the Mitsubishi Montero Sport is a four-cylinder, 2.4 liter with variable valve timing in a diesel engine which MIVEC. Total output is 181 PS while torque rated at 430 Nm and is noted to be the first ever midsize SUV to be equipped with variable valve timing. This is the only engine option for the Montero Sport.
As for the Ford Everest, there are two engine options available. It starts with the 2.2-liter, four-cylinder Duratorq TDCi turbodiesel, which can also be found in the Ranger. It produces 160 PS and 385 Nm of torque. Should you need more grunt, there's also a five-cylinder 3.2-liter Duratorq TDCi turbodiesel with 200 PS and 470 Nm of torque.
Both these SUVs have transmission choices that include a six-speed manual or a six-speed automatic. Also similar are their suspension set ups. The Everest and Montero Sport ride on a double wishbone front suspension and a multi-link rigid axle setup with coil springs for the rear.
These SUVs are also similar when it comes to their four-wheel drive hardware. The Everest comes with an advanced Terrain Management System. It allows the user to select various models in the four wheel drive system depending on the obstacles and conditions. Not to be outdone, the four-wheel drive Montero Sport also has an electronically controlled system. Dubbed Super Select II, it comes with various models such as rock, mud and sand mode along with low range gearing. Two wheel drive models meawhile are rear wheel drive.
Moving on to their cabins, the Mitsubishi Montero Sport is fully equipped even in base model form. Standard is a multifunction steering wheel, a multi-information display, and dual zone automatic climate control. Manual variants get a traditional handbrake whereas automatics upgrade to an electronic parking brake. Move up the range and you get leather seats with power sliding and reclining for both driver and passenger. For its third row, comes with a tumble-forward system to stow the seats away. A bonus feature in the top of the line variant is a power sunroof.
Meanwhile in the Everest, it greets you with a premium yet utilitarian interior. All models get a multifunction steering wheel, as well as a multi-information display to relay information to the driver. Entry-level models get manual climate control while the mid to top-spec models get automatic climate control as standard, along with power seats. To stow the third row seats in the Everest, simply pull a strap and push down the seat to the floor. Opt for the Premium package and you also get a dual-pane moonroof, power-folding third row seats and a power liftgate.
As for infotainment, low end Everest models are equipped with a 4.0 inch color screen while the rest of the range gets an 8.0-inch touchscreen that boasts Sync 3. Sync 3 not only handles entertainment functions such as bluetooth, auxiliary and CD, it also stores and saves information from your mobile device, a voice command feature, a compass and climate control options.
In the Montero Sport, all variants get a 6.75 inch touchscreen with bluetooth, auxiliary, DVD with MP3 capability and smart phone mirror link. Like the Everest, the infotainment also allows you to store your smartphone's contacts as well. Also part of the infotainment package is smartphone display pairing which serves as the SUV's TV function.
Moving on to styling, the Mitsubishi Montero Sport looks different from its pickup sibling, the Strada. It adapts to the "Dynamic Shield" design direction that sees a bold, single piece chrome grill that runs from the top of the headlights to the lower air intake. On to its side, it has a window line that curves upwards, squared-off wheel arches and two distinct character lines that defines it's profile. At the rear, it gets a unique tail light treatment that runs from near the top of the D-pillar to the lower half of the rear fascia.
The Ford Everest on the other hand sports a front fascia straight from the Ranger. It is fitted with a three-bar hexagonal grill that is paired with headlights that comes with either halogen or HIDs with LED daytime running lights. From the windshield and back, the Everest is its own car with a different pair of doors and a more upswept window line. The rear on the other hand gets a elongated hexagonal tail lights and single chrome bar.
Not only do these SUVs come with high-tech drive systems, both can be specified with truly advanced safety systems. Aside from the usual assists and features such as a host of airbags and stability control, the Montero Sport and Everest come with systems that mitigates the accident in the first place.
The Everest is available with Roll Stability Control, trailer sway control, hill descent control, front and rear park assist and rear-view cameras. In the Premium models, it adds Lane Keep Assist, Blind-spot monitoring, forward collision warning and active park assist.
The Montero Sport also aces the safety check with a load of standard kit. All variants get trailer sway control while Mid to top-spec models get stability control. Automatic four wheel drive models get hill-descent control, brake override system, forward collision mitigation system, reverse sensors and blind spot monitoring.
On to their variants and the Mitsubishi Montero Sport starts with the GLS M/T, followed by the GLS AT. Serving as the mid-range variants are the GLS Premium and GLS 4x4 M/T. At the top of the lineup is the GT. As for the Ford Everest, it has seven variants, namely the Ambiente 4x2 M/T, Ambiente 4x2 A/T, Trend 4x2 A/T, Titanium 4x2 A/T, Titanium Premium Pack 4x2 A/T, Titanium 4x4 A/T and Titanium Premium Pack A/T. Prices for the Mitsubishi Montero Sport start at Php 1,550,000 to Php 1,998,000 while Everest ranges from Php PhP 1,375,000 to PhP 2,109,000.