Production Models
Peugeot 308 GT Line 2017 Review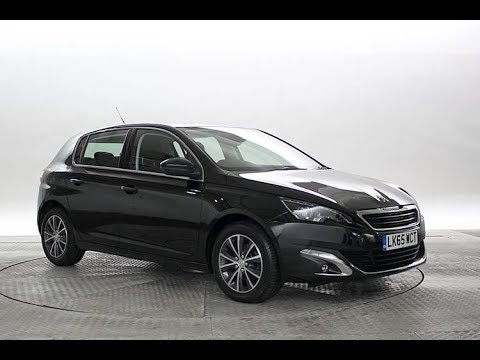 Can one have fun in a humble hatchback? Well, the folks at Peugeot believe that you can. After driving the gas-powered 308 last year, we were impressed by its blend of comfort and its athletic abilities. While that was a brief test, it's time for the Peugeot 308 to take on its toughest challenge yet: Real-world driving.
Peugeot may be a relatively small player in the market but they are definitely not holding back when it comes to their product lineup. With a mix of French chic, stylish designs and a premium feel, Peugeot cars bridge the gap between the mainstream and luxury cars. This is fully embodied in the 308 Hatchback.
Let's start with the looks. By French standards, the 308 is on the conservative side. Unlike the quirky-looking 5008 and 3008, the 308's design sets it firmly as a hatchback, but that doesn't mean it's boring. It's still a handsome looking car with its upswept headlights, subtle body creases and the unique tail light arrangement. It gives the 308 a classy look that somehow retains its Gallic charm. Also, the headlight and tail light arrangement look especially distinct at night, as if it leaves a signature where it drives by.
More of these French touches can be seen inside. For starters, the dashboard layout is what Peugeot calls i-Cockpit. In theory, gives you a better view of the road ahead by setting the steering wheel low and the gauges a little higher. The desired result varies depending on the driver's height. Taller drivers might have a part of the instrument cluster covered by the steering wheel but for those of average height, it really does give better forward visibility. That quirk aside, the 308 is a cozy place to sit in with its supportive and well-padded seats, as well as its air-conditioning that can be set to as low as 14 degrees.
As for space, there's a lot in from and about average for the segment at the rear. The rear seats do recline for more comfort and with its relatively upright roofline, there's a good amount of headroom too. Open the hatch and you're greeted by a large cargo floor that's as square and flat as possible to maximize usable space.
Peugeot also tried to minimize dashboard clutter by putting most of the controls in one touchscreen. The screen displays vehicle status, entertainment options, your mobile phonebook, and even the air-conditioning controls. While it gives the dash a minimalist look, it does mean you have to shuffle between screens to do the various functions. Still, it gives the car that bit more character compared to its mainstream alternatives.
Under the hood of the 308 is a 1.6-liter turbocharged gas engine Peugeot simply calls THP. It puts out 150 PS and a healthy 240 Nm of torque. It then shifts via a six-speed automatic transmission. While the stats won't initially impress, one must drive it first before coming to a conclusion. The way the 308 delivers its power is immediate, almost as if it makes several more horsepower than advertised. Thanks to the turbocharger kicking in early, the 308 feels like a 2.0-liter engine car to drive but without the fuel penalty.
That kind of performance should be backed up by sweet handling and, on that front, the 308 delivers as well. Turn in felt sharp, even a little sporty, when you drive it in a spirited manner. There was a lot of confidence in braking too, offering a lot of bite to scrub off speed. Remember, one of the car's primary safety features is its handling and a good handling car is a safe car.
Even with its fun to drive nature, the 308 still soaks up bumps pretty well. While the low-profile tires suggest otherwise, road imperfections do not upset the chassis and the passengers inside.
Only a muffled thump lets you know you ran over some rough bit of road.
To sum up, the Peugeot 308 is car for those who think outside the box. If you do choose this car, you'll be rewarded by a fun to drive hatchback with a near-luxury feel inside. For those who side with logic, you get a versatile, practical car that's easy on fuel.