Industry News
12th Isuzu Service Skills Olympics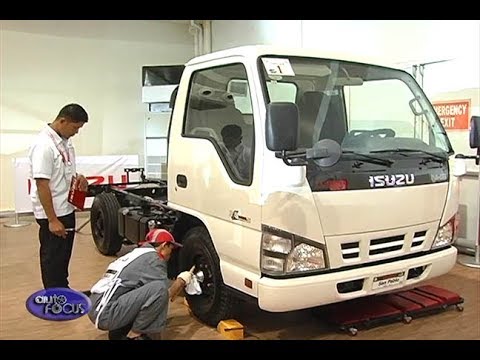 Isuzu Philippines Corporation recently staged the12th Isuzu Service Skills Olympics held at Filinvest Tent in Alabang. This was participated in by service technicians from 21 Isuzu dealerships nationwide.
HAJIME KOSO
PRESIDENT
ISUZU PHILIPPINES CORPORATION
"We are here right now at the 2017 Isuzu Service Skills Olympics. Now on its 12th year, this annual skills competition showcases the capability of our service technicians, service advisors, and parts partners, who are at the fore front of our dealerships servicing facility. Participated by Isuzu's 21 dealerships nationwide."
The annual Isuzu Service Skills Olympics develops Isuzu's service technicians' competencies in vehicle maintenance. This year's winner will represent Isuzu Philippines in the Isuzu Global Competition which will be held in Japan in November. Isuzu Philippines equally gives importance to their after service market especially in the skill development of their after - market technicians and operators.
EDWARD DE GUZMAN
DIVISION HEAD AFTER SALES DIVISION
ISUZU PHILIPPINES CORPORATION
"IPC believes that this would help us to improve the morale of our people by showing them how big the role of after sales operations in our business. Additionally, this also reveals the real quality level of our technicians as well as our service advisors and parts analysts. Furthermore, the results of this service competition serves as a guide to identify the strengths and weaknesses of our personnel every category. And likewise, to asses the performance gap by each dealership."
The competition was divided into 3 parts; service technicians, service advisors and parts analysis. The skills of the participating technicians were both tested in written and practical examination. For technicians, their skill in trouble shooting in meeting Isuzu standard was tested. For service advisors, the importance of handling customers from receiving up to the releasing process was highlighted. And the last category which is the part analysis tested the technician's familiarity in parts applicable needed by customers requirement.
SOT EDWARD DE GUZMAN
DIVISION HEAD AFTER SALES DIVISION
ISUZU PHILIPPINES CORPORATION
"The winners of the competition will be receiving trophies and cash prices. This includes first and second runner-ups. And our champions for all categories will be joining after sales overseas insentive trips to be scheduled next year. And for the service technicians in particular, the top 6 technicians will be chosen for the I-1 Grand Prix qualifying round and will be trained and evaluated for about a month. And we will select the best two technicians that will represent the Philippines in Isuzu Global Competition to be held in Japan this coming November."
The main objective of Isuzu Philippines is not only to harness their technician skills in vehicle maintenance, customer service and after sales market but also to be able to show to the world that Filipino technicians are, if not the best but at par with the international standard. This also guarantees Isuzu's customers reliable and quality efficient after sales services.
HAJIME KOSO
PRESIDENT
ISUZU PHILIPPINES CORPORATION
"I would like to take this opportunity to invite our existing Isuzu owners to regularly bring your unit to our dealerships to maintain the good performance of your vehicle. We can assure you of quick and quality service anytime at any of our Isuzu dealerships nationwide. Thank you very much."