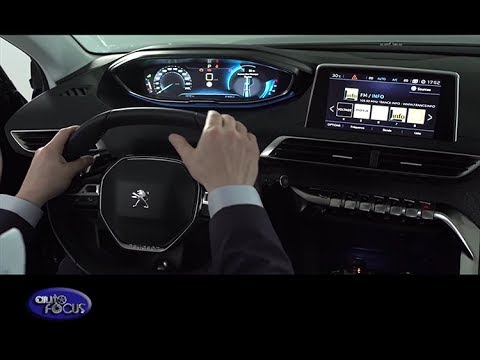 In today's automotive world, advancements in technology have made our cars faster, smarter, and more enjoyable. More than just means of transportation, our vehicles have become complete extensions of our lifestyles.
In this special segment of AutoFocus brought to you by Peugeot Philippines, we take a look at some of the many innovations Peugeot has developed, changing the way we look at automotive technology.
GLEN DASIG:

President - Peugeot Philippines
Hello. This is Glen Dasig of Peugeot Philippines and welcome to our special segment in AutoFocus. Here at Peugeot, we combine centuries of expertise with our passion for design to create driving technology and dynamics that complement your daily life.
One of our iconic innovations is the Peugeot i-Cockpit which has reinvented the driving experience with an intuitive and distinct layout.
The compact steering wheel offers precise steering and improved manoeuvrability while the multifunction touchscreen puts all the functionality at the driver's fingertips. In addition, the head-up instrument panel allows driver information to be accessed without the need for the driver to take their eyes off the road.
Currently fitted to the Peugeot 308 Hatchback and Station Wagon, the award-winning Peugeot i-Cockpit is an innovative driver's seat concept.
It is comprised of four elements: a compact steering wheel for an intense and dynamic driving feel, a strategically placed head-up display so that you can read information without taking your eyes off the road, an impressive high central console, and a big touch-screen for intuitive driving.
The i-Cockpit also features a minimalist design. This removes many distractions commonly found on the central console such as buttons, switches, and lights, allowing the driver to fully focus on driving. All of these controls are ingeniously moved to the expansive touchscreen found at the center console. Basic operations such as climate control, lighting, radio, and multimedia capabilities can now be accessed though the multi-function touchscreen. With all of these controls within one central location, accessibility and comfort is greatly increased.
Praised by the public, the press, and customers alike, it asserts itself as the identity signature for Peugeot's driver cabin.
Customers may also look forward to the next generation PEUGEOT i-Cockpit, in the 2017 European Car of the Year, the all-new 3008 SUV, which will be coming to the Philippines very soon.
The next generation PEUGEOT i-Cockpit goes even further with enhanced quality, sharp design, connectivity and intuitive functions that take personalization to a completely another level.
It is the embodiment of what future driving cabins will be, and is available in the new Peugeot vehicles.